Handy Guide To Planning Baby's 1st Birthday Party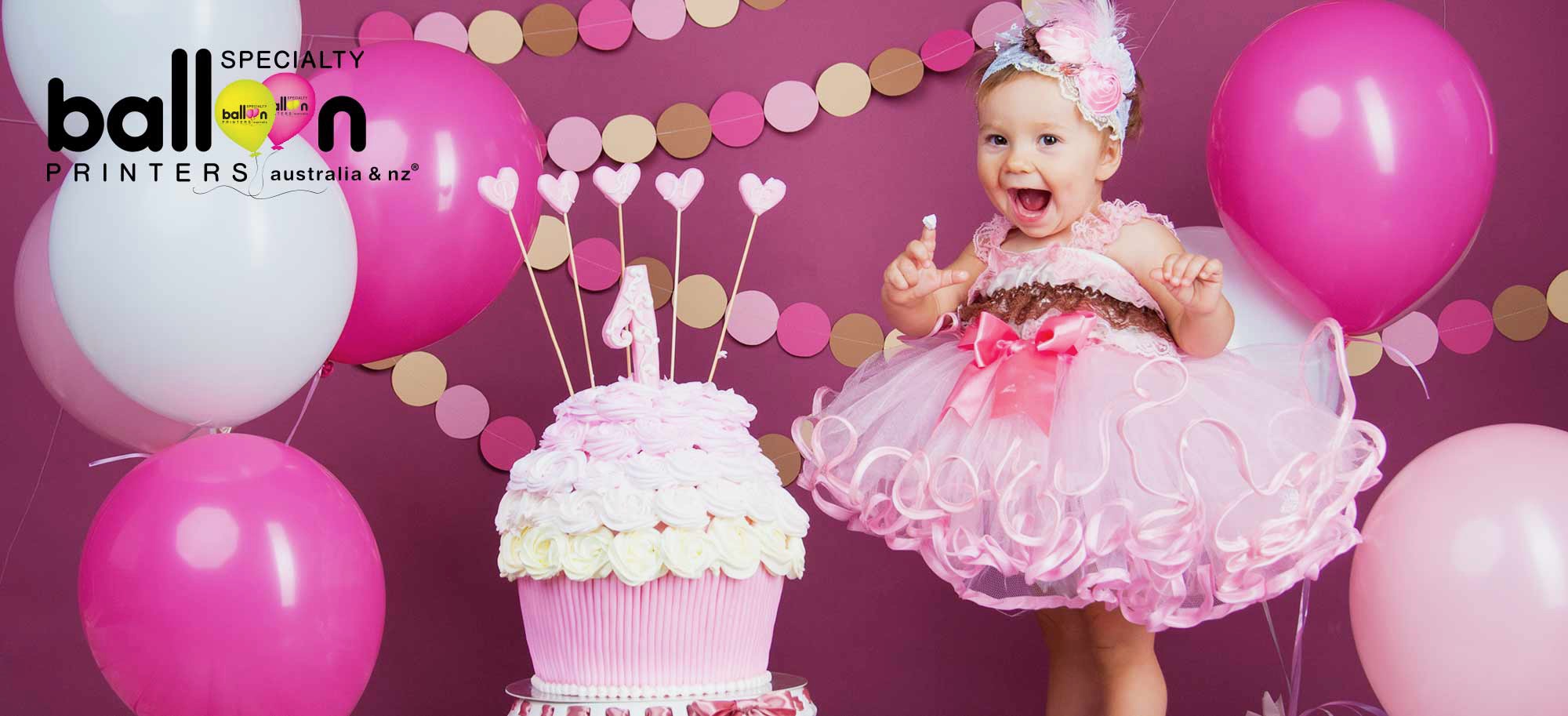 Planning baby's first birthday celebration is a truly special time for parents. And while your little one probably won't remember a thing about their special day, you'll still want to ensure this milestone occasion is a memorable one for everyone.
Read on below for our top tips on planning the best 1st birthday celebration ever!
Create Your Guest List
Whether you decide to put together a large guest list or not will mostly depend on your overall party budget and preferences. There are lots of pros and cons for both a smaller, more intimate gathering as well as a larger celebration with loads of family and friends present.
Ultimately, a smaller budget (and gathering) will mean having a reduced spend on food, drinks and space, rather than if you were to host a much larger party with additional guests.
When To Host The Celebration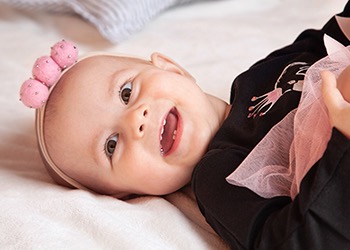 If your baby's birthday happens to fall on a weekday, you may want to consider hosting their party on the weekend. This will allow family and friends who are working during the week the opportunity to attend.
When thinking of what time to host the celebration, it may be a good idea to plan it around your little one's daily routine e.g. after their daily naptime so that they are well rested before your guests arrive. Also, try to keep the party to under two hours so that your little one doesn't get overwhelmed.
Party Venue
If you've got enough space at home and would like to save on costs to hire a party venue, then why not consider hosting the party at home? One major benefit of having the party at home is that while there will be many faces on the day, baby will still be in familiar surroundings and feel more comfortable in their daily environment.
Party Theme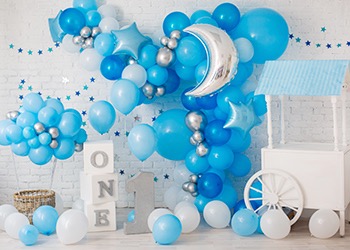 Choosing a theme for your little one's first birthday can make your celebration that little bit more special. From choosing an animal, cartoon character or colour theme, there are lots of options to choose from when it comes to making a first birthday that little bit special.
While having a theme for your gathering is entirely optional, it can very much set the tone for the other elements of your celebration. For example, your party theme can have an impact on what kind of party invitations, balloon decorations and birthday cake you end up choosing for your celebration – so choose wisely!
Send Out Your Invitations
Once you've decided on a party theme, timing and venue details for your baby's first birthday party, it's time to send out the invites. Don't forget to add a picture of your little one to the invite and also incorporate your party theme (if you've chosen one).
Be sure to let your guests know on the invitation all the important event details such as when and where the party will be held at as well as the party start and end time to set an expectation for the duration of the party.
Brightly Coloured Decorations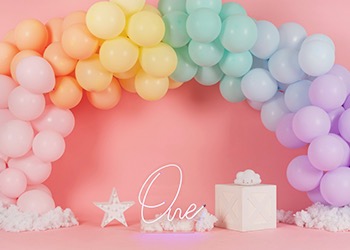 Babies are drawn to vibrant colours and movement, so be sure to decorate with some party decorations that imbue these magical qualities for them to enjoy. Add some brightly coloured custom 1st birthday party balloons, streamers and fun props like stuffed animals and toys to your celebration.
Food Everyone Will Love
When serving food and beverages at a 1st birthday party, be sure to have something on hand for both the adults and kids to enjoy. Because a 1st birthday party often only lasts for a few hours, most hosts will opt for serving simple finger foods and snacks as opposed to heavier meals. Think bite-sized crackers with cheese and deli meats, cob loaf dip or a party platter.
Small children are sure to enjoy snacks like fairy bread, cupcakes, cookies, chocolate crackles or fruit salad. If you've chosen a particular theme for your party, why not incorporate this theme into the food you serve as well as on the birthday cake.
Party Favours/Giveaways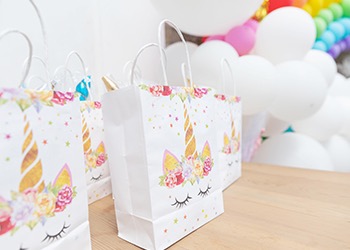 At the end of your party, you can choose to give your guests a memento of your baby's special day as they leave. From gourmet candies in a jar to an ornamental keepsake or even a small toy for children who attend, there are loads of party favour options to choose from to suit every budget, so get creative!
Don't Forget To Grab Some 1st Birthday Party Balloons
Brighten up baby's birthday celebration with some fun and vibrant custom 1st birthday party balloons from Specialty Balloons! You'll love creating your very own custom balloons with Specialty – the process is simple and easy, plus when you're done, you'll have a memorable and unique birthday decoration that everyone is sure to love.
Order your 1st birthday balloons from Specialty Balloons today and save with our price beat guarantee and free delivery special offers.