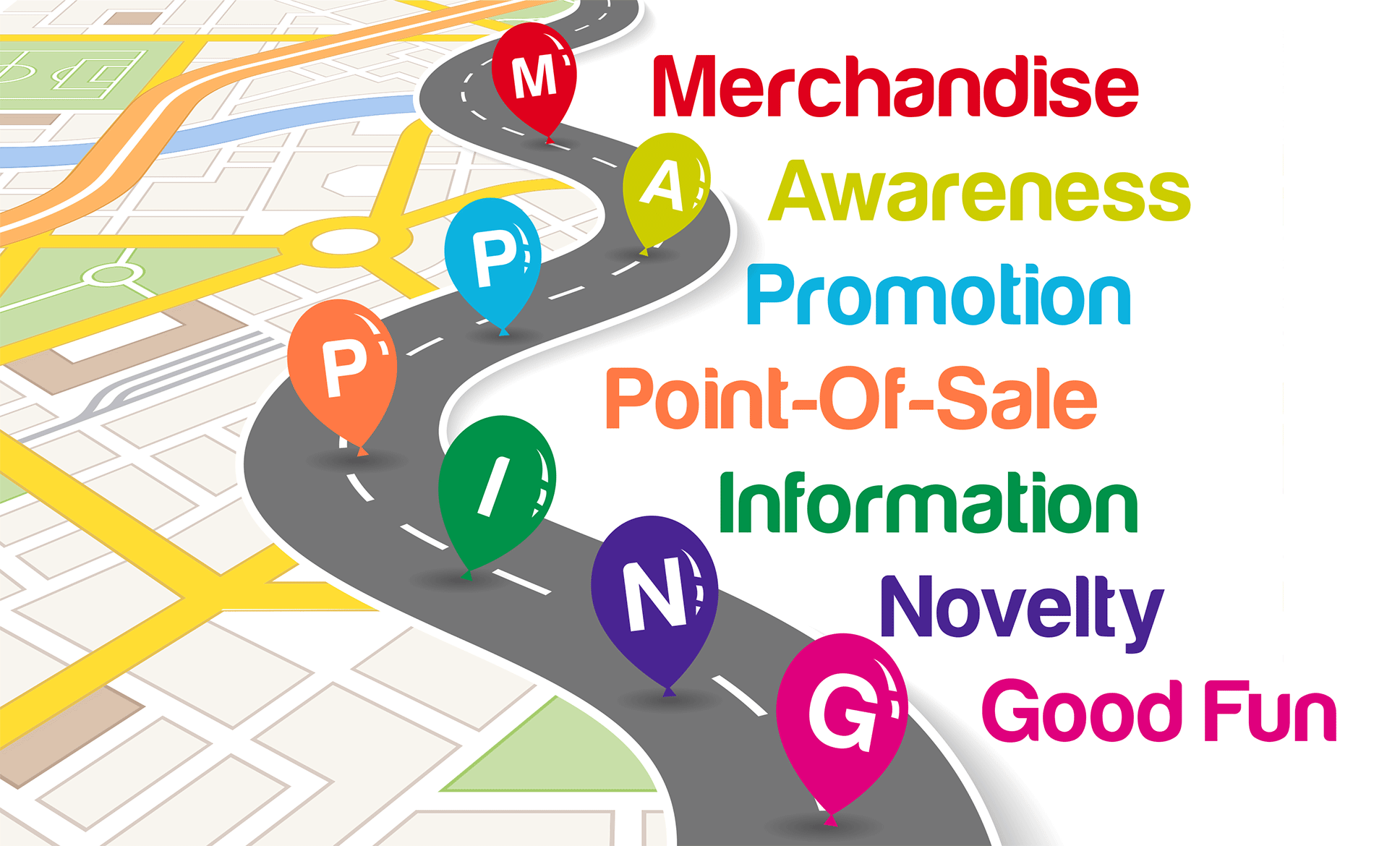 The road to winning, increasing and strengthening your customer relationships is a journey that requires careful and strategic planning. It's a marketing pilgrimage in which only certain promotional products are able to benefit and guide you along the entire course, helping you every step of the way towards achieving your goals.
Balloons are one of these. And MAPPING is the Specialty Balloons solution.
M

erchandise

Whether it's your bread and butter SKUs or your promotional merchandise, it all hinges on your merchandise being the genuine article—great products, great quality. Have that in place and you're well on your way! Balloons are not only a product widely sold as SKUs but they are also proven cost effective promotional solutions and traditionally successful as promotional merchandise across just about every industry.
A

wareness

No matter how great your merchandise is you won't move a single unit without market awareness. And it may be that your merchandise is in fact a service or an event—such as community programs or political campaigns. Whatever the case, balloons have long been the highly cost-effective backbone of promoting awareness across wide-ranging industries and on widely varying scales.
P

romotion

With Awareness in the bag, you move down the road to the next two phases of your journey. Promotion and Point-Of-Sale. While they may seem similar in some ways, these two phases are actually very different. Promotion is the realisation of a tactic or strategy in a tangible form, something that touches your market—an advertisement, a gimmick, a sample, etc—something that engages the focus of your market and embraces them with a positive brand experience. Balloons have long been king of this domain!
P

oint-Of-Sale

Same goes for Point-Of-Sale. The need to grab the attention of your newly aware market members is plainly obvious—in-store sales, specials, field days, trade shows, on-site promotions, etc—it all hinges on catching the eye of the consumer and getting them through your door. Balloons rule the roost here, too; very affordable 3D signage that moves about in the air, captivates and engages your audience.
I

nformation

Once the business side of things is done, it's very important to keep information about your business in front of your loyal customers. You can do this via email marketing or more personalised action such as corporate events, product launches, mail outs, etc. In all cases, balloons provide a format for your message or a way to dress up the event.
N

ovelty

It's proven that people remember messages better when they physically interact with a piece of promotional merchandise. When it comes to delivering your information, balloons provide the novelty to present it in a unique and engaging way that will be truly remembered by customers. Keep refreshing your message to your market and loyal customers with the use of balloons they can inflate and/or keep—like custom shaped foil balloons.
G

ood Fun

At the end of the day, customers love to have a positive, fun experience. And when it comes to a younger generation of consumers coming through the ranks, they're going to remember and feel comfortable with the brands that provided such an experience. Balloons are the ultimate in simple, good fun for all generations—spanning everything from a kids' giveaway item to a decoration for an adults' party or event.

Specialty Balloons – Mapping your way to commercial success!